Price and cancelation
The price variant does not affect the character selection
it is exclusively about different levels of housing
690 EUR

Applications before
17 Feb 2023 100 EUR discount
28 Feb 2023 50 EUR discount

Payment before 31 May 5% discount

COSTUME, WEAPONS, PROPS
shoes are not part of the costume

Nobility and non-nobility roles

FOOD AND NON ALCOHOLIC BEVERAGES (WATER, TEA)
THURSDAY DINNER TO SUNDAY BREAKFAST
(authentic medieval recipes)
GAME FRIDAY 8:00 AM - SATURDAY 19:00

sleeping in a hotel under the castle

The price variant does not affect the character selection
it is exclusively about different levels of housing
590 EUR
Applications before
28 Feb 2023 50 EUR discount

Payment before 31 May 5% discount

COSTUME, WEAPONS, PROPS
shoes are not part of the costume

Nobility and non-nobility roles
FOOD AND NON ALCOHOLIC BEVERAGES (WATER, TEA)
THURSDAY DINNER TO SUNDAY BREAKFAST
(authentic medieval recipes)
GAME FRIDAY 8:00 AM - SATURDAY 19:00
sleeping in the pension under the castle
2-3 players per room
The price variant does not affect the character selection
it is exclusively about different levels of housing
490 EUR
Payment before 31 May 5% discount
COSTUME, WEAPONS, PROPS
shoes are not part of the costume

Nobility and non-nobility roles

FOOD AND NON ALCOHOLIC BEVERAGES (WATER, TEA)
THURSDAY DINNER TO SUNDAY BREAKFAST
(authentic medieval recipes)
GAME FRIDAY 8:00 AM - SATURDAY 19:00

sleeping in the castle (camping in the building)
heated room + foam pads
Packages differ only by the type of accommodation
Basic – 490 EUR
Basic – Accommodation in the common castle halls (large gas heated room in the 2nd floor of the castle, outside of the gaming area. You will need to bring your own sleeping bag and warm sleeping clothes. You will receive a thick sleeping pad from us. There will be a bathroom with toilet and cold water but NO shower or hot water.
Luxury – 590 EUR
Luxury – Includes accommodation in a guesthouse in a bedroom with multiple beds, bathroom (shower, toilet, hot water) and transfer from the guesthouse to the castle and back every morning and evening.
Ultra luxury – 690 EUR
Ultra luxury – Includes accommodation in a hotel room with one bed, bathroom (shower, toilet, hot water) and transfer from the hotel to the castle and back every morning and evening.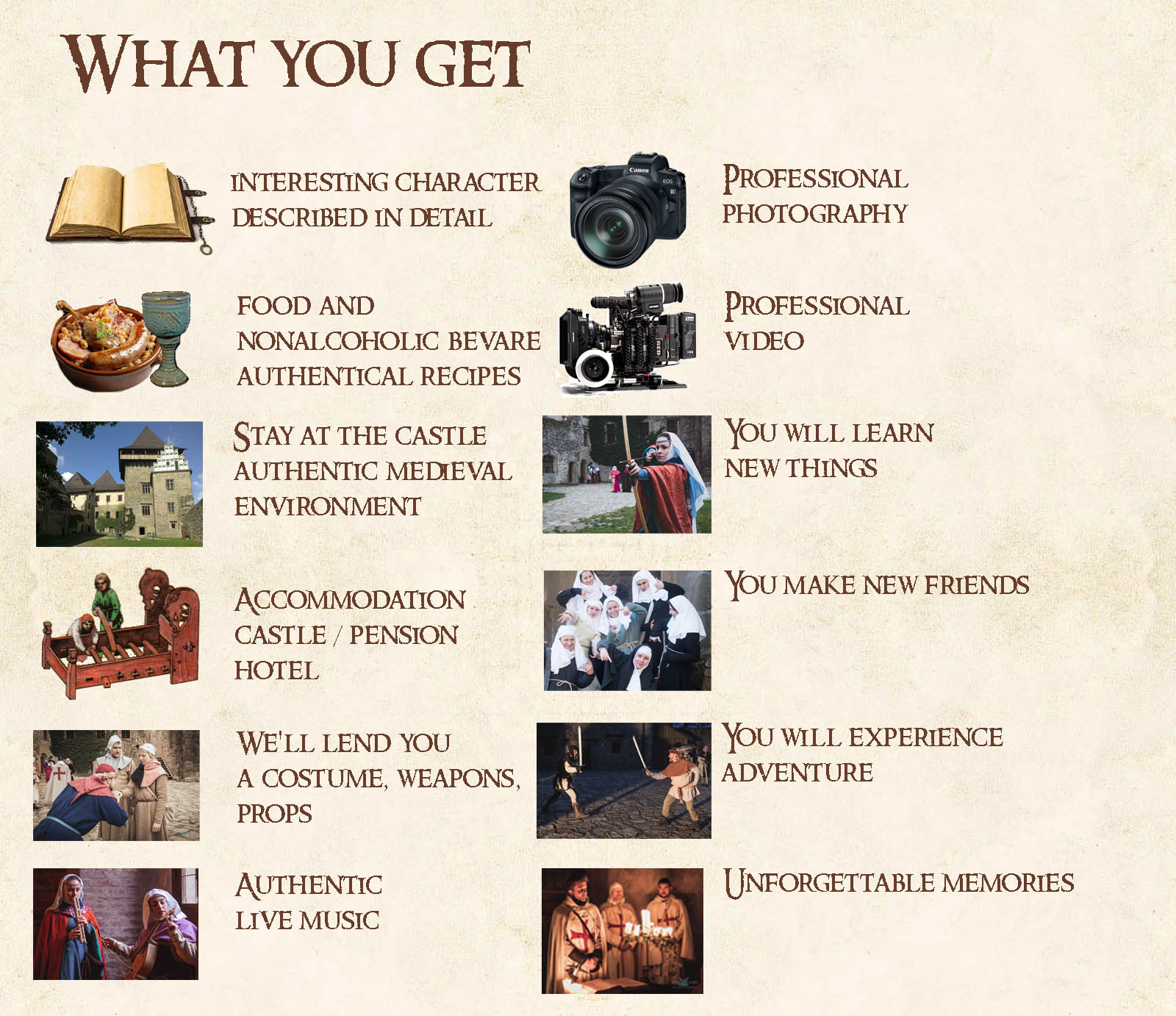 What you get regardless of what price package you choose
1) Complete historical background document that includes everything you need to know for the game from the historical perspective. You don't need to study anything extra in advance.
2) Character with many interesting plots, relationships and a strong storyline.
3) Historical costume including accessories fitting the characters' status in the hierachy and the year 1262. The costume does not include shoes and warm underwear.
4) Food made according to old historical recipes for the whole duration of the game and hot tea. (Thursday evening – Sunday morning, full board)
5) Four days stay on a medieval castle with access to the whole grounds (except for several technical and operating rooms)
6) Transfer to the castle from Prague or Jihlava (Student Agency buses from European cities) on Thursday and back to Prague or Jihlava on Sunday.
7) Live medieval music during the game.
What if I want to bring my own costume and LARP weapons?
If you wanted to bring your own costume, it is possible, but be aware of the fact that our fashion police is incredibly strict. We want to have a unified visual style of the game, clearly centered on year 1262. We want the costumes to go well with each other not just in style but also in fabric – we don't have any velvet in our inventory, we believe it would be out of place. So if you are a re-enactor focused on the same period and you want to use your own equipment, please take pictures of the pieces you want to take and send them to us. Our fashion police will evaluate your costumes and they will let you know if you can take them or not. Thank you for your understanding!
The same is true for weapons, we will also evaluate them from all aspects – they must fit from historical, visual and also safety perspective. We don't allow any steel weapons, not even knives for cutting food.
If you have your own costume approved by the organizers, you will get a discount of 20 EUR.
As for weapons, in principle you can have your own here too, but we are strict here when it comes to security. We ourselves use foam-softened weapons (sometimes called bofry) – you can see them in many photos from our games or in our e-shop. We use soft polyurethane foam, which has similar properties to latex, of course latex weapons are also allowed. The condition of these weapons is that they are completely soft and safe and there is no metal element in their construction. So a metal core of the blade is not possible, we do not allow metal guards on swords, nor metal pears on the handle of swords. We don't allow metal daggers in the game at all. When it comes to weapons – really no metal. As for brands, we know that safe weapons are from Calimacil, Thowt, Mytholon and more. Maybe you're a swordsman and you're used to your sword being perfect and perfectly balanced. We know that these weapons are not ideally balanced, but on the one hand, we are not a fighting game, and on the other hand, our priority is really safety. Thank you for your understanding.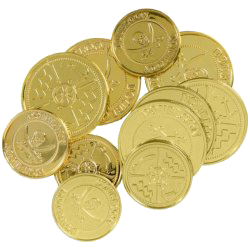 Payment info
Please choose one of these options.
bank transfer
IBAN: CZ3920600000000001183179
BIC/SWIFT: CITFCZPPXXX
Type in your name into the message for recipient.
We prefer this type of payment because it is easiest for us and we pay the lowest fees.
But is possible the other was too:
You can safely and simply pay by Bitcoin, Litecoin or Monero. If you choose this option please contact us and we will generate a unique address to accept your payment. This will also allow us to link the payment to the particular player.

Paypal  to

e-mail: tomas@choral.cz
Your credit cards may be used as well when paying via Paypal.
Date of payment and discounts
AFTER AN INDIVIDUAL AGREEMENT it is possible to arrange a repayment schedule and divide the amount into three separate payments.
In case you pay the full amount until 31 May 2020 you get 5% off. 
Cancellation policy
The application can always be cancelled but the fee grows with regards to how long before the game it's been cancelled. If you find out that you can't come either try to find a substitution or we will find one. The later the attendance is cancelled the harder it is to find a substitute player, therefore we claim these following rights.
– 50% of your total amount will be charged if you cancel from one month to 14 days prior to the arrival date.

– 100% of your total amount will be charged if you cancel 14 days prior to the arrival date or later.
If you have any questions or need further information please feel free to contact us.
November 9 – 12, 2023
(9. – 12. 11. 2023)